Components of steel tape measure
Tape measure is very common. Now almost everyone has one in their home. Tape measure is widely used. It can be used to measure the size or distance of long workpieces. It is widely used in architecture and decoration. It is a good helper in people's work and life.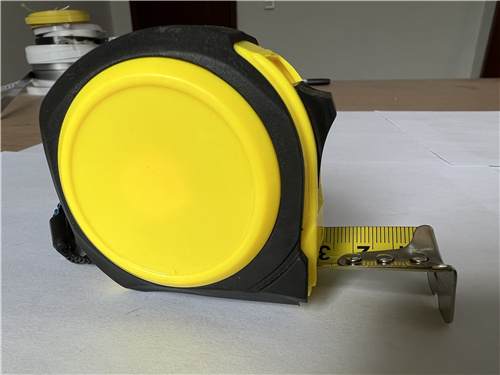 So do you know its components?
The tape measure is mainly composed of eight parts: shell, ruler bar, brake, ruler hook, lifting belt, ruler spring, anti falling protective sleeve and labeling. The specific functions are as follows:
1. Shell: ABS new plastic, glossy appearance; It is resistant to falling, wear and deformation.
2. Ruler: 50\\1 grade steel strip with thickness of 10 wires (0.10mm) is used; The ruler surface is the most advanced environmental protection paint: tasteless, smooth and wear-resistant, bright color, clear and bright scale
3. Braking: it has three-dimensional braking at the top, side and bottom, and has a stronger feeling of manual control.
4. Ruler hook: rivet ruler hook structure, not easy to deform, ensuring more accurate measurement.
5. Strap: Rubber and nylon; High grade and high quality; It is durable and feels good.
6. Ruler spring: generally made of 50\carbon steel and 65\manganese: strong toughness and high accuracy.
7. Anti falling protective sleeve: high quality plastic to prevent falling and collision damage and enhance durability.
8. Labeling: labeling production can be carried out according to customer requirements.
When you understand the components of the tape measure, you can better use it, maintain it and make it most useful in your hands.
Related Products